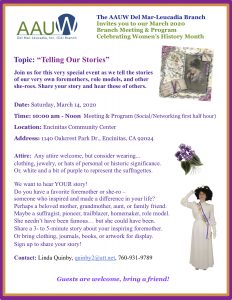 ***********************************************
View the pictures from our recent DiversiTEA event!  This link will take you to Facebook–no need to log in.  Click HERE!
Calendar of Branch Activities for 2019-2020 can be viewed HERE.
Our latest newsletter, The Coastline, can be viewed HERE.
What's Inside the Dec 2019 – Feb 2020 Coastline:
A Message from our Co-Presidents
Focus on December-February AAUW Program
Holiday Social Flyer – Dec 6
AAUW San Diego IBS – Annual Breakfast – Jan 25
 A Taste of Diversity, Speaker Jenni Doherty – Feb 1
News from our Special Interest Groups
New Members Spotlight
Scholarship Committee
AAUW Public Policy Update
College/University Relations
October Meeting – Census 2020
November Meeting – A Legacy of Leadership
Getting to Know our Members
Amazon Smile
Branch events are held at the Encinitas Community Center, 1140 Oakcrest Park Drive, Encinitas 
Mission Statement
The purpose of AAUW is to promote equity for all women and girls through advocacy, education, philanthropy and research.
Value Promise
By joining AAUW, you belong to a community that breaks through educational and economic barriers so that all women have a fair chance.