October Zoom Meeting with League of Women Voters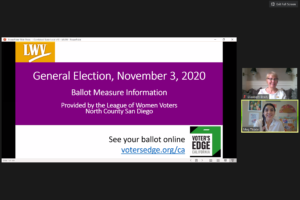 Thank you to the League of Women Voters North County San Diego for a very informed talk.  Elizabeth Brady and Meg Thode walked us through the State propositions and local ballot measures.  It was a lot of information to present, but Elizabeth and Meg thoughtfully walked us through all the issues.
September Zoom Meeting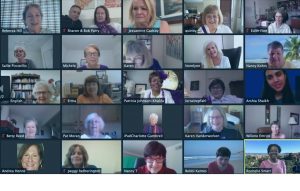 Our September meeting was held via Zoom.  We are getting used to this!  Our presenters Linda Quinby, Charlotte Gumbrell, Nancy Telford, Patricia Johnson-Khalifa, and Nancy Kohrs shared their interesting and inspiring stories of their own foremothers and she-roes from suffragists to pioneers, teachers, homemakers, and more!
May Tech Trek Meeting
Our annual inspiring Tech Trek meeting included listening to Katy Bouman who was on a team that photographed a black hole.  Also we listened to Pari Rosen's story about how she became a micropaleantologist.  In addition, we heard via Powerpoint from Romy Beigel who just graduated from Montana State.
March Joint Meeting With Carlsbad-Oceanside-Vista and Fallbrook Branches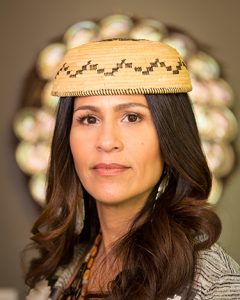 We celebrated Women's History Month at a lovely luncheon with Dr Joely Proudfit.
February Meeting: Dialog on Diversi-TEA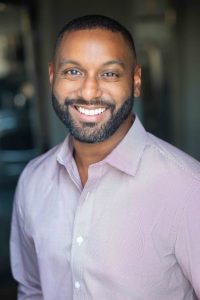 Members were treated to a lovely tea as well as a lively discussion led by Cardozie Jones, which focused on diversity, equality, and inclusion.  Cardozie engaged the members with thought-provoking insight into race and racism.
January Meeting: Women and Money
In January Jackie Mazur and Pattie Ehsaei gave us very informative talks regarding everything a woman should know about her finances.  Too many wives let their husbands control their investments without knowledge of her financial situation.  Jackie and Pattie showed us how to better informed.
November Meeting: Women in the Military
Our November meeting consisted of a lively discussion of what it was like to be in the military or have a close family member in the military.  A truly informative and inspiring session, particularly for those who do not have family members serving.
October Meeting: Get Out the Vote! 
Midterms matter! League of Women Voters representatives informed our group about the current issues and propositions on the California ballot.
September Kickoff Meeting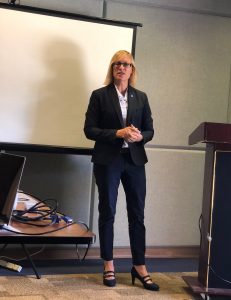 Cory Schumacher, Carlsbad City Council Member, and three-time Women's Longboard Champion, spoke to us on challenges and opportunities presented by Title IX, the landmark federal civil rights law passed 46 years ago which provides for gender equality in education.  Cory spoke of her experiences with surfing contests and inequalities she experienced during her professional years as a surfer.
June Installation Meeting
Members and guests celebrated our Branch Accomplishments, installing our new Board of Directors, and recognizing AAUW Named Gift honorees, Shape the Future awardees, and hearing from scholarship recipients.
May Tech Trek Meeting
Our annual Tech Trek meeting included listening to some fabulous speakers: Carolina Quirarta, nursing student from CSUSM, Sophie Hernandez from Mira Costa and Barbara Newton, retired computer engineer, all gave inspiring speeches.  In addition, we heard via Powerpoint from Romy Beigel and her latest exploits at Montana State.