September Kickoff Meeting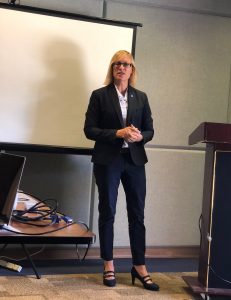 Cory Schumacher, Carlsbad City Council Member, and three-time Women's Longboard Champion, spoke to us on challenges and opportunities presented by Title IX, the landmark federal civil rights law passed 46 years ago which provides for gender equality in education.  Cory spoke of her experiences with surfing contests and inequalities she experienced during her professional years as a surfer.
June Installation Meeting
Members and guests celebrated our Branch Accomplishments, installing our new Board of Directors, and recognizing AAUW Named Gift honorees, Shape the Future awardees, and hearing from scholarship recipients.
May Tech Trek Meeting
Our annual Tech Trek meeting included listening to some fabulous speakers: Carolina Quirarta, nursing student from CSUSM, Sophie Hernandez from Mira Costa and Barbara Newton, retired computer engineer, all gave inspiring speeches.  In addition, we heard via Powerpoint from Romy Beigel and her latest exploits at Montana State.
April General Meeting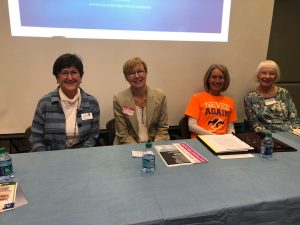 Our Public Policy discussion was led by four distinguished women.  Kathy Harper is a member of AAUW State Public Policy Committee.  Jennifer Lonbom discussed #NeverAgainCA's agenda of removing gun shows from the Del Mar Fairgrounds.  Anne Omsted discussed a proposition to alter California Prop 13 to include only residential homes, not commercial property.  Elizabeth Brady talked about getting out the vote.
March General Meeting
Our theme "Nevertheless She Persisted" was discussed by our guest speakers former Carlsbad Councilwoman and City Clerk Lorraine Wood, current Carlsbad City Council member Cori Schumacher, and Dr Karen Shelby, USD Provessor who teaches Gender and Political Leadership.  We honored past and present women who support equal representation in government.
November General Meeting
Karen Dorney led an informative discussion regarding what various organizations in our county are doing to combat hunger.  Renee Resko represented the Helen Woodward Animal Shelter and talked about her program "Animeals" which brings pet food to those who can't get out.  Aviva Paley spoke about "Kitchens for Good', a service that teaches culinary skills as  well as uses produce that would ordinarily be discarded.  Bea Palmer and Latia Witcher are from Mira Costa College and they told us about their program to help feed needy students.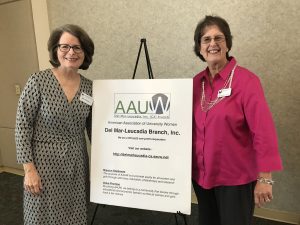 October General Meeting
Mary Thompson (left) and Martha Cox from the League of Women Voters called upon us to become more active in our Democratic process.  It was inspiring to hear them talk about exploring opposing views, engaging in collaborative politics, compromising, and especially cultivating hope.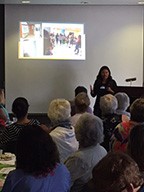 September Branch Meeting
Our Leadership for Women, by Women program attendance exceeding our expectations, with a full house of energetic AAUW members and guests!  Among the highlights were presentations by Cal State San Marcos student Maria Pascual, who spoke about her experiences at the 2017 NCCWSL (National Conference for College Women Student Leaders) and the impact that it made on her leadership skills and her vision for the future.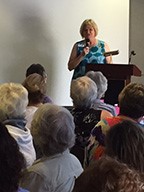 Continuing the theme, Leadership for Women, by Women, our branch past president Linda Quinby presented highlights from the AAUW National Convention and kept the audience enthralled with her stories about meeting Supreme Court Justice Sotomayer, PBS News anchor, Judy Woodruff, and participating in Capitol Hill Lobby Day and attending workshops on leadership development, research, and the latest topics in women's issues.