November Meeting: Women in the Military
Our November meeting consisted of a lively discussion of what it was like to be in the military or have a close family member in the military.  A truly informative and inspiring session, particularly for those who do not have family members serving.
October Meeting: Get Out the Vote! 
Midterms matter! League of Women Voters representatives informed our group about the current issues and propositions on the California ballot.
September Kickoff Meeting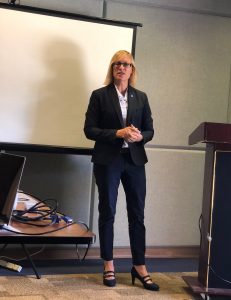 Cory Schumacher, Carlsbad City Council Member, and three-time Women's Longboard Champion, spoke to us on challenges and opportunities presented by Title IX, the landmark federal civil rights law passed 46 years ago which provides for gender equality in education.  Cory spoke of her experiences with surfing contests and inequalities she experienced during her professional years as a surfer.
June Installation Meeting
Members and guests celebrated our Branch Accomplishments, installing our new Board of Directors, and recognizing AAUW Named Gift honorees, Shape the Future awardees, and hearing from scholarship recipients.
May Tech Trek Meeting
Our annual Tech Trek meeting included listening to some fabulous speakers: Carolina Quirarta, nursing student from CSUSM, Sophie Hernandez from Mira Costa and Barbara Newton, retired computer engineer, all gave inspiring speeches.  In addition, we heard via Powerpoint from Romy Beigel and her latest exploits at Montana State.
April General Meeting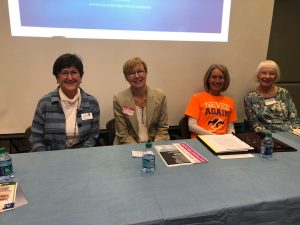 Our Public Policy discussion was led by four distinguished women.  Kathy Harper is a member of AAUW State Public Policy Committee.  Jennifer Lonbom discussed #NeverAgainCA's agenda of removing gun shows from the Del Mar Fairgrounds.  Anne Omsted discussed a proposition to alter California Prop 13 to include only residential homes, not commercial property.  Elizabeth Brady talked about getting out the vote.
March General Meeting
Our theme "Nevertheless She Persisted" was discussed by our guest speakers former Carlsbad Councilwoman and City Clerk Lorraine Wood, current Carlsbad City Council member Cori Schumacher, and Dr Karen Shelby, USD Provessor who teaches Gender and Political Leadership.  We honored past and present women who support equal representation in government.
Past IBC Meetings
Link to Laura Pasquale's Public Policy presentation given to the IBC Leadership Day June 29, 2014