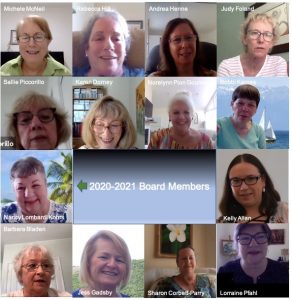 Executive Board:
Co-Presidents:                                Michele McNeil
                                                           Rebecca Hill
Secretary:                                        Andrea Henne
Treasurer:                                        Judy Foland
Directors:
Membership:                                   Karen Dorney
Programs:                                         Norelynn Pion-Goureau
Publicity:                                           Bobbi Karnes        
Public Policy:                                    Norelynn Pion-Goureau
Tech Trek:                                         Lorraine Pfahl

AAUW Fund:                                     Sallie Piccorillo
Appointed Positions (non-voting):
Parliamentarian:                            Nancy Lombardi Kohrs
College Scholarships/IBC Rep:    Barbara Bladen
College/University Liason:           Kelly Allen
Communications/E-Blasts:           Linda Quinby
Webmaster:                                     Betty Reed
Marketing:                                        Sharon Corbett-Parry
Newsletter Editor:                         Lorraine Pfahl
Mbrship Treasurer/Directory:    Jess Gadsby                                      
Get involved!

Refer to the Branch Calendar for Board Meeting dates.  Board meetings are open to everyone.  All AAUW Del Mar-Leucadia Branch members are welcome to apply for a position on the board.